Prints on Toughened Glass and Splashbacks for Kitchens and Bathrooms.
Andy Small has teamed up with Opticolour Ltd to bring you the very latest in digital printing. Any of his images can be chosen to create a contemporary statement in your home or office.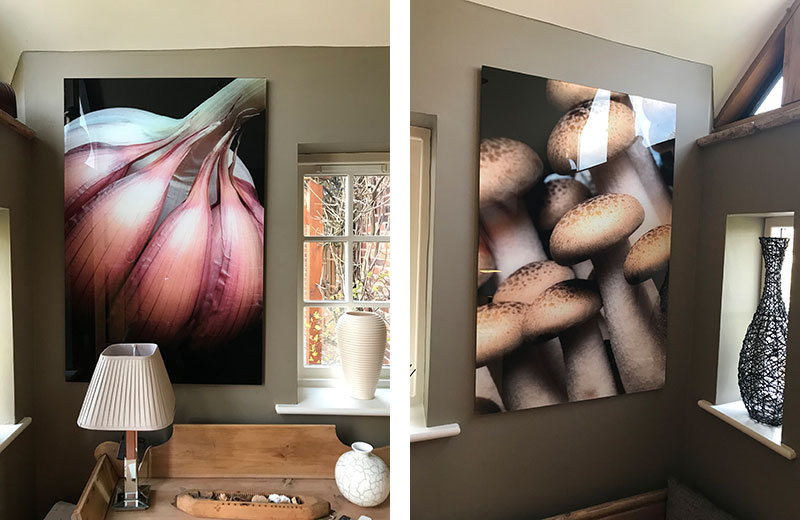 Large Garlic and Mushroom prints image 2460 and 4247
Bath Splashback from image 2853 Isle of Skye.
Bluebell Wood 2649 Print on Glass. Mounted using the hidden fixings from Bohle.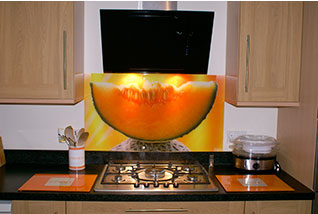 The nature of the finished product means that as well as providing a stunning piece of art for your wall it has practical uses such as for kitchen splashbacks.
For the technical details and more information about the product please visit the Opticolour Ltd website. All of their work is produced in the UK.
The bespoke nature of this product means that individual requirements can be easily met and if you are interested in having any of the images printed in this way please contact us either by phone or email in the first instance.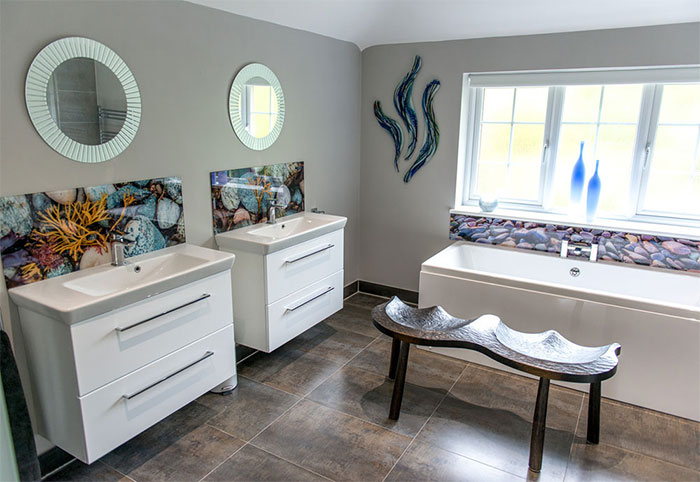 Splashbacks for the Bathroom.
These are the prices for standard kitchen splashback sizes.
Small 600 mm x 700 mm £350
Medium 600 mm x 750 mm £375
Large 600 mm x 800 mm £400
The above prices include adhesive and delivery to the UK mainland.
Most splash backs are made to your specific requirements. Please get in touch by email or phone for a quote.
Below are the prices of some of our standard sizes for prints on glass.
Medium/Small  £215 size 42 x 63 cms
Medium  £290 size 50 x 76 cms
Medium/Large  £470 size 63 x 95 cms
Large  £685 size 76 x 116 cms
Huge  £1,155 size 100 x 150 cms
Small Panoramic £265 size 33 x 100
Medium Panoramic £585 size 50 x 150 cms
Large Panoramic £1,285 size 75 x 225 cms
Medium Square £160 size 40 x 40 cms
Large Square £295 size 60 x 60 cms
All prints on glass are made to order. There is no extra cost involved for bespoke sizes.
Prices include Bohle hidden fixings for hanging as a picture or silicon for using as a splashback.