All prints are printed using Ultrachrome pigment inks giving a lifespan in excess of 80 years and come ready mounted using a conservation grade white core mount board. All of the printing and framing is done by Andy Small. All mounts are signed by the photographer.
Each image in the Galleries has the standard size options that are available. For the ease of framing in most instances these equate to standard sizes of frames. Bespoke sizes always available.
Sizes of prints on paper
Mini 13 x 19 cms in 20 x 25 cms mount  Mini Framed 20 x 25 cms
Small 20 x 30 cms in a 30 x 40 cms mount Small Framed 30 x 40 cms
Medium 27 x 40 cms in a 40 x 50 cms mount Medium Framed 40 x 50 cms Limited Edition of 50 on Cotton Rag
Large 40 x 60 cms in a 50 x 70 cms mount Large Framed 50 x 70 cms Limited Edition of 50 on Cotton Rag
Small Square 20 x 20 cms in a 30 x 30 cms mount Small Square Framed 30 x 30 cms
Medium Square 30 x 30 cms in a 40 x 40 cms mount Medium Square Framed 40 x 40 cms Limited Edition of 50 on Cotton Rag
Large Square 40 x 40 in a 50 x 50 mount Large Square Framed 50 x 50 cms Limited Edition of 50 on Cotton Rag
Huge Square 60 x 60 in a 70 x 70 mount Huge Square Framed 70 x 70 cms Limited Edition of 50 on Cotton Rag
Small Panoramic 21 x 63 in a 28 x 70 cms mount Small panoramic Framed 28 x 70 cms
Medium Panoramic 25 x 63 cms in a 32 x 63 cms mount Medium Panoramic Framed 32 x 70 cms
Large Panoramic 30 x 90 cms in a 40 x 100 cms mount Large Panoramic Framed 40 x 100 cms Limited Edition of 50 on Cotton Rag

Late afternoon, Ullswater.
Mini, Small, Small Square and Small and Medium Panoramic prints are Open Edition Prints on Epson Enhanced Matte Paper.
All other prints are Limited Edition Conservation Quality Prints on Pinnacle Premium Textured Rag 310gsm which is a 100% Cotton Rag Paper and  are limited to an edition of 50.
These are known as Giclee Prints.
Cotton Rag Paper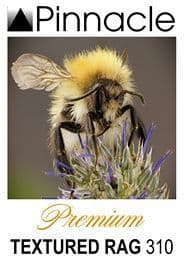 Pinnacle Premium Textured RAG 310gsm (formerly Pinnacle Premium Rag) is the ultimate paper for photographic and fine art printing. Luxurious natural white with none of the yellow warmth which some papers exhibit and an attractively defined texture which does not distract from the image and gives a real feeling of quality. The surface has been designed to avoid 'scuffing', which can be a problem with some grades of textured Fine Art papers. With 100% rag fibres and no optical brighteners this paper is as archival as they come.
Soft grain – mould made
No optical brighteners
Natural White
Archival – Acid and Lignin free
Excellent colour gamut and exceptional D-max
There is simply no finer quality paper available for fine art and photographic printing.
All prints on paper come ready mounted in a conservation  grade Arctic White mat. A sample of this can be sent if required.
Frames
All framed print orders will be framed using Jet Polished Black Aluminium Nielsen Classic frames. Details can be found here
Nielsen Brushed Aluminium frames are also available (apart from panoramic sizes). Please add note to order if you would prefer this frame to black.
Other frames can be supplied upon request.

Snowdrops.